Services
Signature Fitness isn't just another fitness club — we are a fitness resort. Our state-of-the-art equipment, dedicated staff, and outstanding amenities provide a unique environment where members can enjoy fitness, relaxation, and recreation.
You'll find high-quality fitness programs for adults of all abilities at Signature Fitness. Whether you want to gain strength and flexibility, lose weight, improve your nutrition or enhance your overall health, our expert staff will help you meet your goals.
We even offer prepared meals through The Pro Shop.
We demand the best from our personal trainers, so they can demand the best from you. Our personal trainers have to meet high standards of excellence in exercise physiology, nutrition, anatomy, training program development, exercise application, health screening, and fitness assessments. But most importantly, our personal trainers excel at applying their knowledge to all walks of life, from athletes to seniors to members looking to get back into shape.
Personal Training

Group Training

Buddy Training
All classes at Signature Fitness are included in your gym membership at no additional cost. We offer over 60 dynamic, exciting classes seven days a week.
Group Fitness Studios are all equipped with state of the art equipment, audio/stereo systems, spring or rubber flooring, floor to ceiling mirrors, and ceiling fans/lighting.
We offer a variety of the most current and popular classes such as Zumba, Yoga, Spinning, HIIT Bootcamps, Circuit Training, Sculpting and much more!!
FIND OUT MORE
We understand that sometimes it's nice to be in a more private setting that lets you focus just on your workout. That's why our Signature Fitness women's only area is equipped with the best Life Fitness weight machines, free weights and cardio equipment and lots more.
Signature Supplements aka "The Pro Shop"
Monday: 11:00am – 9:00pm

Tuesday: 11:00am – 9:00pm

Wednesday: 11:00am – 9:00pm

Thursday: 11:00am – 9:00pm

Friday: 11:00am – 9:00pm

Saturday: 9:00am – 2:00pm

Sunday: closed
Reserve a time to pick up! We welcome members to call ahead and reserve your products to be picked up at a scheduled time!
We carry a variety of products including protein powders, pre-workouts, fat burners, apparel, accessories and more.
Some of the brands we carry include:
Dymatize, Evogen, Optimum Nutrition, Pro Supps, Centurion Labz, BMI, Betancourt, GallonGear, VersaGripps, GAT, Cellucor, Angry Mills, MPA, Schiek, & Cyclone Cup.
We partner with Nourished Meal Prep to provide members with high-quality nutritious meals. For now, members can order by clicking this link and meals will be delivered to the Pro Shop and pick-up is available in our secured fridge. You can also apply the discount code "sigfit" when you order. Please see concierge when you come to pick up. 
Learn More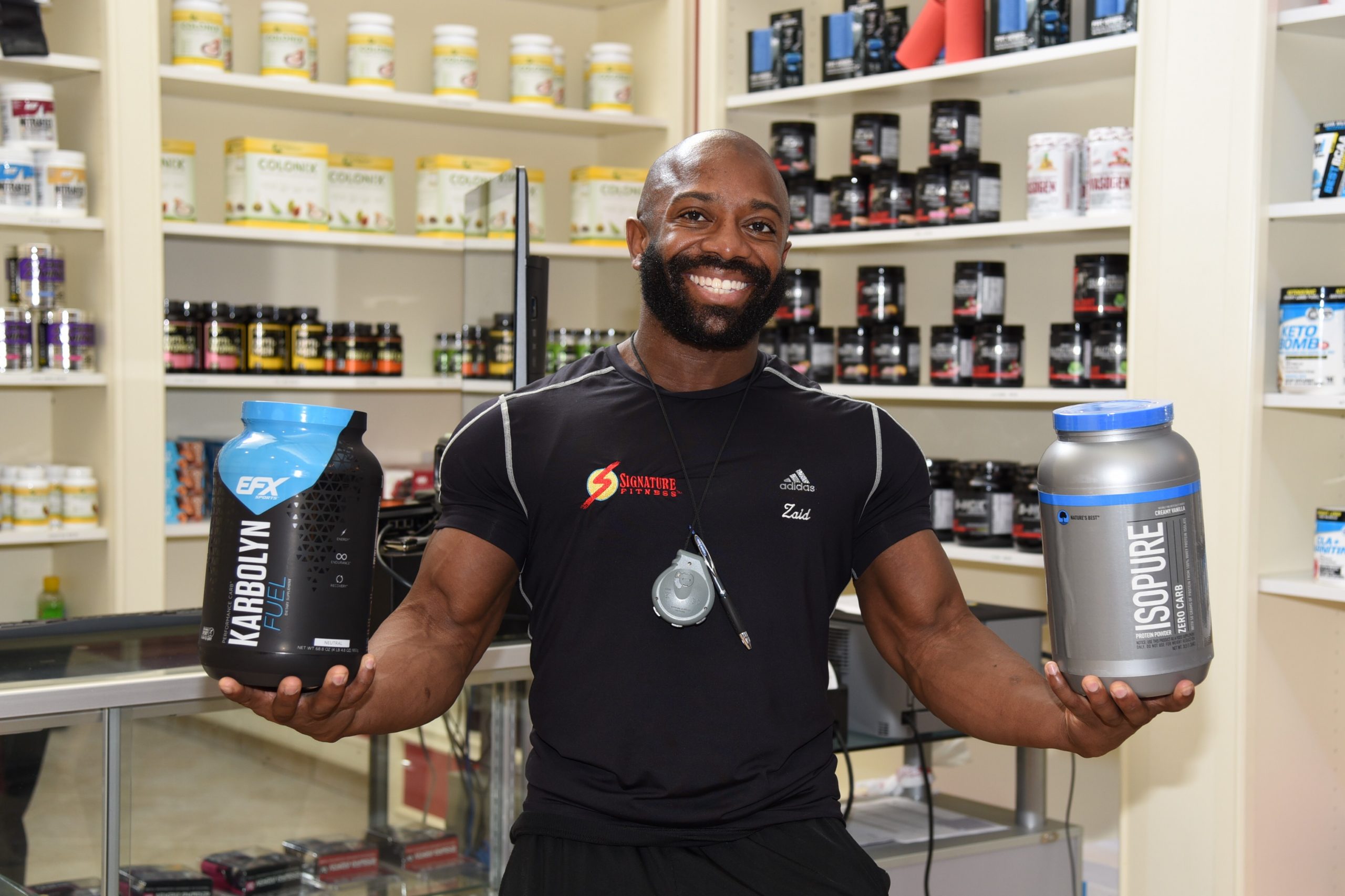 TANNING
Hours: 24/7 – Our concierge can help service at any time. Please call the gym for pricing options.
We have 5 beds:
-Kiwi King

-Blueberry Blues

-Ergoline 600

-Ergoline 800

-Sun Capsule 250 Max (Stand-Up)
JUICE BAR
The Juice Bar at Signature Fitness is so much more than just a "Juice Bar". It's a lifestyle. We specialize in protein shakes but we are truly a one stop shop here to refresh your lifestyle, offering everything from wheat grass shots to supplements.
CHILDCARE
Hours:
Mon – Fri 9 am – 2 pm & 4 pm – 8 pm
Sat – Sun: 9:00 am – 2 pm
Rates:
Basic Membership: $15 a month per child 
Premium Membership: $5 a month per child
Performance Membership: Free
Age restrictions & policies:  Ages 9-mo to 12 yrs.
WELLNESS CENTER
The mission of Signature Health & Wellness Center is to provide the members of our community with high quality, affordable health care in a comfortable and caring environment. We are your one stop wellness center offering Chiropractic, Physical Therapy, Acupuncture, and Massage. All of our offices have the newest cutting edge technology and equipment.
Our purpose is to perform our work using the highest ethics, integrity and professional standards, never ceasing to improve our services at every level.
All of our offices, including our Signature Fitness Belleville location, have the newest cutting edge technology and equipment.
TESTIMONIALS
"I've been a proud member of Signature Fitness for 5 years and I must say it has been a wonderful experience. "

Julio M
"Such a great gym with so much to offer! The staff is very accommodating and friendly."

Josie S
"I live in NYC and this gym is so amazing that I travel to it despite the distance!"

Joel A
"Best gym in town! I go early in the mornings before work. The staff is very friendly. I have no issues with anything."

Ralph G
"Best gym in the area hands down! Friendly staff, very clean and you never have to wait for any equipment."

Eric T
"The equipment at Signature Fitness is a level above most gyms."

Christopher O
"Love, Love, Love the Group Fitness classes."

Eddie C
"This is a beautiful gym and its open 24/7 which is great for my work schedule."

Val S
"There's so much equipment. You'll never get bored here. It's like a playground for adults."

Dennis R
"I love having a supplement store right on site. The prices are very affordable and now it makes getting my supplements a breeze."

Andrea G
"Fabulous gym with all you could ask for"

Teresa A